The next international edition of the competition will take place in 2021, October the 21, 22 & 23th at Padova (Italy)!
Anyone living in one of the 23 participating countries is free to participate. To do so, she/he sends her/his tactile illustrated book entry (original creation or adaptation of an existing book), accessible to visually impaired young people from 0 to 12 years old (all details in the Rules), to the T&T national partner which will organize the selection process. Each entry must be accompanied by a Registration form.
If there is no T&T national partner in your country, you unfortunately cannot participate, unless you can find an organization willing to become a new T&T partner!
The T&T national partner of the national selection process that receives the entries sets up a jury to select up to 5 best entries. The tactile illustrations, text, binding, colors and contrast, style, the reproducibility of the book, and finally the manageability of the format are examined (see our Tips).
This same selection occurs simultaneously in all 23 participating countries.
Deadline for sending the entries (in progress):
Belgium: 24th August 2021
Brazil: 31st  August 2021
Canada: 
 Colombia:
Croatia: 5th July 2021
Czech Republic: 5th March 2021
Estonia: 
Finland: 2nd August 2021
France: 31st  August 2021
Germany: 15th  August 2021
India: 15th September 2021
Italy: March 2021
Iran:
Lithuania: 15th September 2021
Netherlands: 15th April 2021
Poland: 31st July 2021
Romania: 31st  August 2021
Russia:
Slovenia: 20th August 2021
South Korea:
Switzerland:
United Kingdom: 27th August 2021
United States of America: 10th  August 2021
The best entries from each country (maximum 5) are then sent to the international T&T jury which is composed of representatives from the 8 founding member countries. The T&T Jury meets, over two days, to decide which entries to award the 1st prize, 2nd prize, 3rd prize and the 8 "Judges' Favorites" (one per judge)!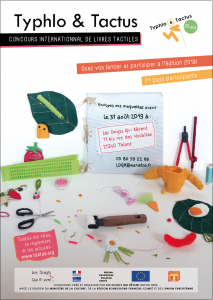 (Poster announcing the 2019 T&T competition for France, designed by Les Doigts Qui Rêvent)