International Competition of Tactile illustrated Books




Welcome to the T&T website. Here you will discover tactile illustrated books from all over the world, and you will find all the keys to participate in the next competition, and why not… organize it in your own country.
Good discovery!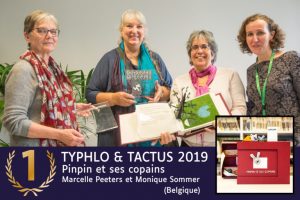 Winners 2019
1rst Prize
″Pinpin et ses copains″
Marcelle Peeters & Monique Sommer,
Belgium
2nd Prize
″Das spin″
Gyntha Goertz & Ann Conefrey,
The Netherlands
3rd Prize
″Mamie Rose″
Tini Chouvenc
France
Discover them in pictures!
2019 Judges favorites
Belgian Judge
« Un bout de papier chatouilleux » by Élodie Maïno (France)
British Judge
« Zemlja Je Nasa Mati » by Ljiljana Vidovic (Croatia)
Czech Judge
« Mamas Bauch » by Jeanne Wienkoop (Germany)
Finnish Judge
« ПЕТИНЫ СОКРОВИЩА » by R. Feoktistova, A. Anisimova, V. Speranskaya, M. Petrova & V.Gulyaeva (Russia)
French Judge
« Magic shoes » by Minu Simon (India)
Italian Judge
« L'alphabétagère » by Sylvain V. Crippa (Switzerland)
Dutch Judge
« Bombo » by Patrycja Zalejska & Kiryl Konowalow (Poland)
Discover them in pictures!
We keep in TOUCH!
To stay informed of the latest news about the competition, especially the launch of the next 2021 edition, register!