International Competition of Tactile illustrated Books




Welcome to the T&T website. Here you will find pictures of touch books from all over the world and tips on how to participate in the 16th edition of the 2024 competition. It all starts with a national competition (24 participating countries). The best designs from each national competition go on to compete at international level.
The 15th edition was held in Padova, Italy, from 31 March to 2 April 2022. We invite you to discover the photos of the winning books but also of all the books received. A big thank you to all the participants.
Winners 2022
1rst Prize
« Odd »
M.J. Duffy
GREAT-BRITAIN
2nd Prize
« You choose »
Faversham Sociable Sewing Group
GREAT-BRITAIN
3rd Prize ex aequo
« The red and the blue »
Karolina Banaszkiewicz Badura
POLAND
« Ausflug mit Langstock Lasse »
Johanna Kofler, Elena Braune
GERMANY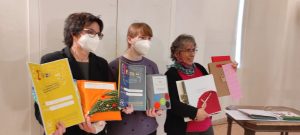 Discover them in pictures!
2022 Judges favorites
Belgian Judge
« Satumetsän Aarre » – Merja Munukka et Hanna Aho – FINLAND
British Judge
« Ztracená náušnice » – Michaela Samalova – CZECH REPUBLIC
Czech Judge
« Herr Wunderlich, der wundert sich » – Almut Bürger – GERMANY
Poland Judge
« Fee en pip » – Marion Brillemans – NETHERLANDS
French Judge
« The missing piece meets big O » – Shel Silver Stein – IRAN
Italian Judge
« Une petite bille dans la tête » – Mouna Ayadi – BELGIUM
Dutch Judge
« Coco et le petit colibri » – Léa Groussaud – FRANCE
Discover them in pictures!
We keep in TOUCH!
To stay informed of the latest news about the competition, register!